In 2000, it was all about the likes of Qualcomm
QCOM,
+1.50%,
Intel
INTC,
+0.64%
and an assortment of doomed dot-com stocks. Two decades later, and the players may have changed, but the stock-market story rings familiar, according to Luke Palmer of the Bear Traps Report blog.
"Renewable froth" is a prevalent theme in the current equity bubble, he explained, considering the wild performance of highfliers Plug Power
PLUG,
+1.03%,
Nio
NIO,
-0.37%,
Enphase Energy
ENPH,
+0.90%
and, of course, Tesla
TSLA,
+0.80%.
"Not only are renewables trading at sky-high valuations, but price-to-sales ratios in growth stocks as a whole are now above their 2000 peak," Palmer wrote, referring to this chart:
Palmer singled out Cisco Systems
CSCO,
-0.59%,
in particular, as an example of when a good company with a bright future can still wreak havoc on a portfolio.
"Despite becoming a very successful company over the past twenty years, now employing over 80,000 people, Cisco is still -45% below its 2000 peak!" he wrote. "The important thing to remember is when equities become this overbought on a long-term technical basis, they are pricing-in DECADES of success. Everyone knows renewables are the future of power-generation, that does not mean these valuations are sustainable in the near-term."
And it's not just top-heavy renewable energy stocks that have Palmer concerned. He warned that S&P 500 index's Relative Strength Index, an technical indicator of momentum used to determine overbought or oversold conditions, suggests trouble ahead for the bulls.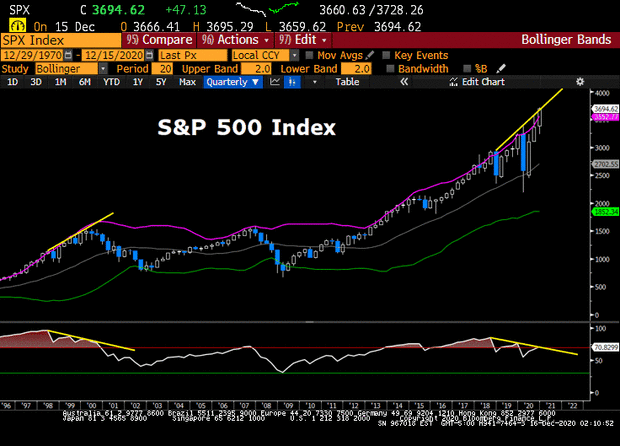 "Just like the dot-com peak, the quarterly RSI in the Index has been fading lower for a few years (loss of momentum), while the S&P 500's price has hit new highs, this is MEANINGFUL bearish divergence," he wrote. "In our view, we are close to a long-term top."
No sign of a top in Wednesday's upbeat trading session though, with the Dow Jones Industrial Average
DJIA,
+0.70%,
tech-heavy Nasdaq Composite
COMP,
-0.04%
and S&P 500
SPX,
+0.47%
all moving nicely higher ahead of the Christmas holiday.