In recent years, the SUV has become the most popular choice of many manufacturers' rosters, and are pushing familiar formats like the sedan and station wagon to the brink of extinction. Sport-utility domination now has its sights set on the sports car, adding blistering performance to its ever-growing bag of tricks. Today, there are quite a few high-horsepower SUVs available from a variety of manufacturers ranging from a little extra zip, to balls-to-the-wall performance, ready for breakneck runs to the supermarket (or drag strip). Let's take a look at a few of the models out there.
BMW X5M – 547 HP
The X5 is BMW's
BMW,
-1.10%
midsize luxury SUV. Since its introduction in 1999, it has grown to become BMW's top-seller, accounting for over 20% of new vehicles sold by the Bavarian brand. In 2009, after a decade in production, the X5 fell into the hands of the M-performance division, who tuned the midsize luxury SUV to produce 547 horsepower, enabling the 5,348 Lb X5M behemoth to go from 0-60 in 4 seconds flat. Needing to uphold M-division's reputation built upon track legends like the M3 and M5, the BMW X5M doesn't disappoint. 
Audi SQ5 – 349 HP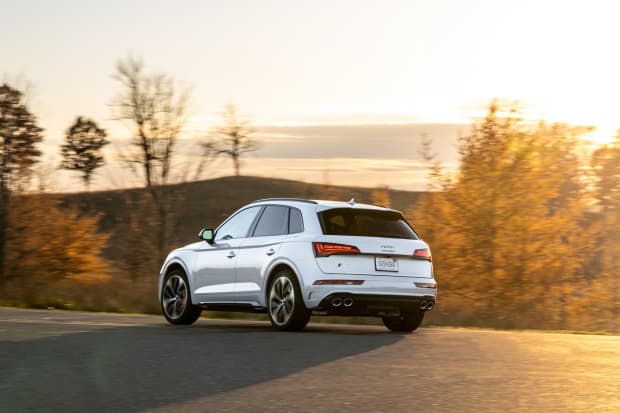 Rival to the BMW X5, the Q5 is Audi's midsize luxury SUV entrant. Interestingly, Audi chose not to overdo it for their performance iteration the SQ5, opting for a turbocharged V6 pushing 349 horsepower, adding two cylinders and 90 HP over the standard, turbo-four equipped Q5. With a 0-60 time of 5.1 seconds, SQ5 has plenty of oomph but will fall short for the speed freaks who might be better off with a Porsche Macan Turbo, which is built on the same platform as the SQ5.
Also read: 5 cool things about Subaru's newest BRZ sports car
Porsche Macan Turbo – 434 HP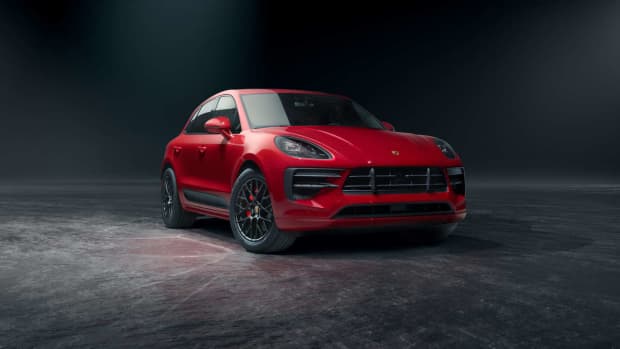 Porsche is the widely know as the world's largest sports car manufacturer. Made famous by the iconic 911, recent years Porsche has focused on their line of SUVs, which now outsell their iconic sports cars by a large margin. As a once struggling, niche manufacturer, SUV sales have propelled Porsche into a decade of growth, with the Macan holding the title of top model.
Don't miss: Do you own one of these cars? It could become a desirable collectible
Sharing a platform with the Audi Q5, the Porsche Macan offers sportier engine options by comparison, with a 375 horsepower V6 available on the Macan S, and 434 horsepower twin-turbo V6 on the Macan Turbo, boasting a rapid 0-60 time of 4.3 seconds. 
Jeep Grand Cherokee SRT/SRT8/Trackhawk – 470/707 HP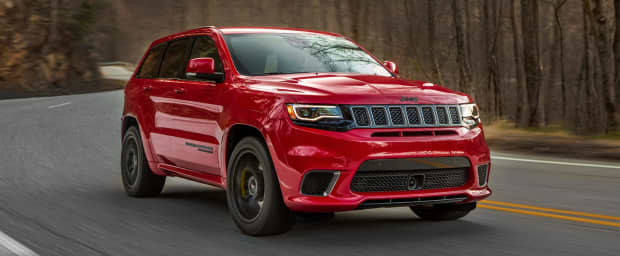 With roots in the fire-breathing Dodge Viper, SRT (short for Street & Racing Technology) is Fiat Chrysler's
FCAU,
+0.55%
performance brand, responsible for giving the go-fast treatment to vehicles across their lineups. Over the years, we've seen the SRT-treatment given to the Dodge Challenger and Charger, receiving the heavy-duty 6.4L 392 cubic inch HEMI V8, good for 470 horsepower. While this engine is a perfect match for the Challenger and Charger, starting in 2006, it made an appearance in the off-road centric Jeep Grand Cherokee, as the Grand Cherokee SRT8.
Proving quite popular, over 18,000 Grand Cherokee SRT8's were built in its first generation between 2006-2010, confirming a growing audience and market for high-performance SUVs. In 2011, the branding nomenclature changed, and the Jeep Grand Cherokee continued on as the Jeep Grand Cherokee SRT from 2012-2017, before transforming into the blistering 707 horsepower Trackhawk for the 2018 model year. Equipped with Dodge's launch control technology, the Jeep Grand Cherokee Trackhawk is capable of reaching 0-60 in a scant 3.3 seconds, affording it the title of world's fastest SUV, besting the exotic Lamborghini Urus by .3 seconds. 
Also see: This is the fastest car Toyota makes
Alfa Romeo Stelvio Quadrifoglio – 505 HP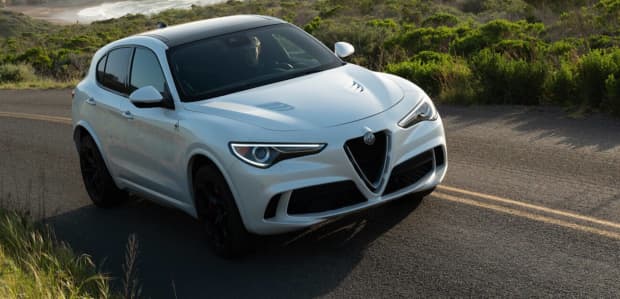 One of the newest entrants to the sport-utility game is Alfa Romeo's Stelvio. Just one of three models in Alfa Romeo's new-to-the-market lineup, the Stelvio is the Italian brand's compact SUV offering. Equipped standard with a peppy 280 horsepower turbocharged-four, the go-fast Quadrifoglio trim gets a Ferrari-built, twin-turbocharged V6 in the engine bay, sending 505 horsepower to all four wheels, and from 0-60 in 3.4 seconds. Aggressively styled, there is a throaty engine note to match, and with a highly communicable chassis, this toss-able ute can do double-duty on a daily drive or on a track day.
This story originally ran on Autotrader.com.